GENACTION 博客

返回
Poverty in Hong Kong - Life in Sham Shui Po
Most of us are extremely fortunate to be able to study in Hong Kong's most elite schools, and have basic rights and needs of a child. Hong Kong may seem to be one of the wealthiest, most modern and most diverse cities in the world, but some of the Hong Kong citizens have been victims of poverty for a long time.
Sham Shui Po is arguably Hong Kong's poorest district. Filled with old buildings and cage homes, Sham Shui Po has become one of the areas that most charity organisations of Hong Kong would like to look into and the improve the lives of the citizens that are living there.
Last summer, I worked with my parent's friend's company to work with unprivileged children of Sham Shui Po. For 4 days a week, I spent my mornings and afternoons in a temporary shelter in Sham Shui Po, playing and teaching the unprivileged children who do not have enough money for tuition classes and proper learning resources. This piece of writing will summarise what I did in these few days, and what I learned from this valuable lesson.
Joy and positivity
The highlight of these few days was the joy and positivity of the children. Although these children come from lower class families, they were grateful for what they have. Before entering the teaching stage, the staff members and I would usually hold some interactive English games for the children. They were extremely cheerful and happy to take on new challenges. Although some of the children did not understand a single English word, they still enjoyed the game and put their full energy and effort into making themselves and us have fun.
| | |
| --- | --- |
| (JLam - August 2017) | The girl in this picture is only 4 years old. Although her age was not qualified to join the course, the founder of this programme kindly let her joined due to her enthusiasm and passion for English. She comes from a very poor family that lives in cage homes. This little girl doesn't even know how to write and hold a pencil properly, but yet she has not given up. |
Creativity
The lacking of education and learning resources did not limit the children's imagination and creativity. On the last day of the course, all the staff members and the children built their "dream house" together. The children who participated in the course varied from 5-11 years old. Yet their age has not limited their imagination. Their dream house has 6 individual bedrooms for each of their group mates, and a large living room in the size of a dome. Of course, the children did not fold the shapes together, but their ideas of their dream house and their ways of decoration really amazed me.
How poverty can affect one's thoughts and childhood
During the process of building, I came across a boy called Jerry. He was a bit timid and was anxious to participate in the house building activity. After a long while of comforting and a series of questions, Jerry was finally gallant enough to tell us the reason behind his fear and his choice of being an outcast. The reason behind this is because of his family background. Jerry comes from a family with a low income, and they live in a small apartment that is just opposite to the shelter that we were using. He expressed his feelings toward expensive clothing and big houses. He stated how he will start realizing how poor his family is after looking at luxury items and big living spaces. All of the staff members (including myself) started tearing up, and we realized how fortunate we are.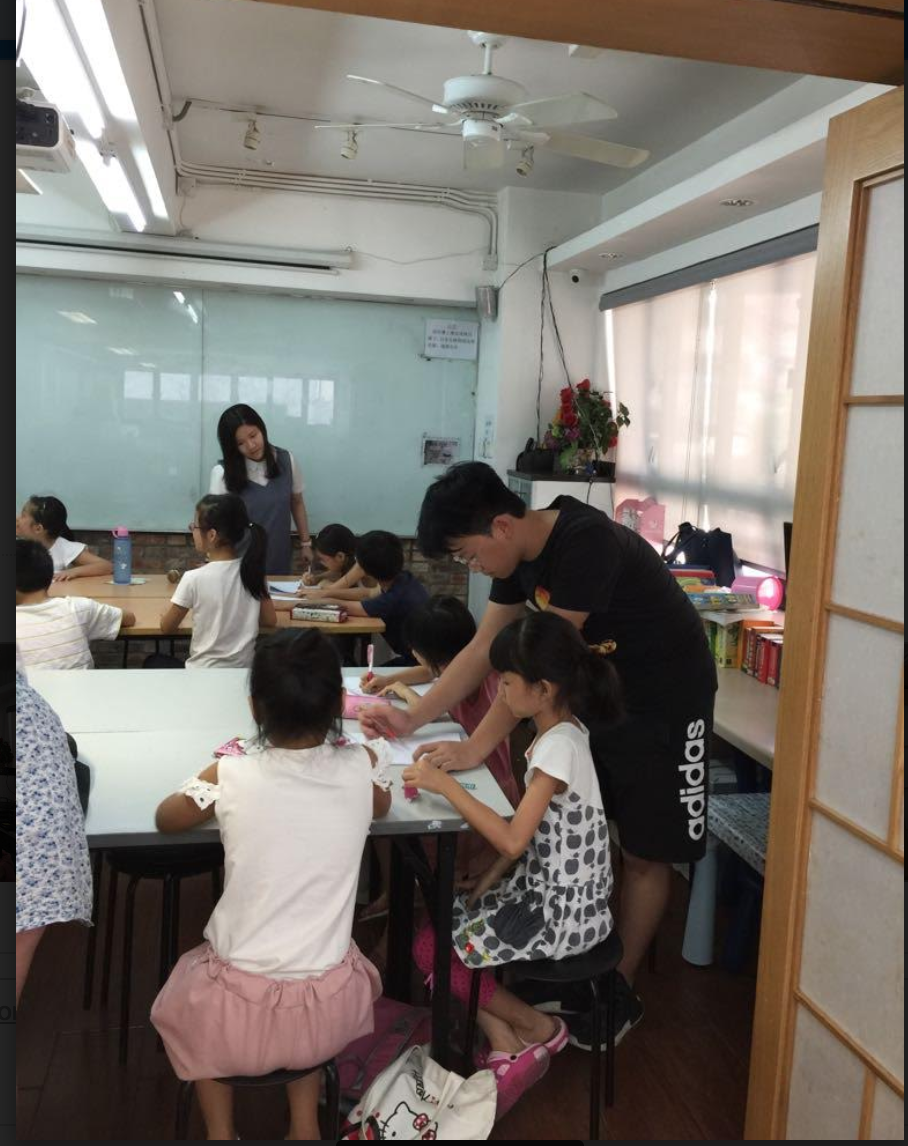 Maths class (JLam - August 2017)
Takeaways from This Programme
These children did not receive the best educational curriculum
Despite their backgrounded and challenges they might meet, they are still grateful for what they have and are willing to take on new challenges
Unprivileged children from Hong Kong are actually a lot more fortunate than other children from LEDCs.
Living under poverty can ruin one's childhood and thoughts.
Thoughts
Does one's living space limit or affect their development
With their creativity and imagination, will they be even brighter if they grew up in a middle or higher class family?
Are there any solutions to help these children and their families?
Sum up of the Whole Course
The whole course ended in a blink of the eye. The course has not only shown me another side of Hong Kong, but has also taught me many valuable lessons in life. I am very honored and fortunate to be able to take part as a volunteer of this project/course. The course has not only trained me to be a more resilient person, but has also taught me to be grateful for what I have. Meeting the kids of Sham Shui Po also motivated me to pursue a passion to get rid of poverty in the world, allowing children from across the globe to pursue their dreams, and to receive basic rights and needs in their lives. No matter what race and background a child comes from, every child should receive equality, protection, survival, development rights and participation rights. This project is why I chose to join the Young Envoys programme of UNICEF.
How can we Address the Problem of Poverty and Children's Rights?
Poverty is a huge issue in the world. It may not be such a threat and harm to the rich, but little do we know what poverty can do to its victims. A lot of us are studying in top schools with a stable and resourceful curriculum. Poverty could not be solved in the snap of our fingers. By spreading the word of poverty at home and at school, we can influence people around us to contribute to solving the problem of poverty once and for all. I personally think that the Young Envoys Programme is a great opportunity for teenagers and kids to spread the world of poverty and other messages regarding human rights. In order to spread the message of poverty and human rights, we can set up a few display boards at school or even share our experiences of community services to our parents and peers.
Solution
As teenage citizens living in Hong Kong, we could not do much to help victims of poverty. Apart from making donations and organizing funding activities, we can spread the message of poverty in the community we are living in right now. We should be grateful to be able to study in one of the top schools in Hong Kong, and to have a peaceful and stable lifestyle. No matter what role we pick up in the future, our past experience of community services and being a participant of the Young Envoys programme motivates us to inspire and influence the young ones. Working together, we can change the world we are living in right now, and make it a better place.